11/03 next day , Transport and unloading Hai An JSC ( code : HAH ) will officially traded on HOSE . But from the day 12/02 , shares of major shareholders as MHC , MAC and TMS have increased relatively attractive compared with the market.
In summary
– On 11/03, Transport and unloading Hai An (code: HAH) will be officially listed on HOSE with the listing price has been raised from 37,000 VND / share to 40,000 dong.
– This is an enterprise which was judged to be good with underlying sales growth of 20% / year. Net sales in 2014 reached 430.7 billion – an increase of 92.6% and profit after tax of 113.2 billion – an increase of 37.2% compared with 2013.
– With a large percentage of ownership to HAH, share prices of companies such as MHC, MAC, TMS has grown quite attractive in recent times. 11/03 next day, Transport and unloading Hai An (often referred to as the port of Hai An, code: HAH) will officially traded on Exchange Ho Chi Minh City (HOSE) with the listed price has been raised from 37,000 VND / share to 40,000 dong. Unknown stock movements after the bourse HAH will turn out, but shares of the largest shareholder is JSC MHC (code: MHC), Joint Service Delivery and Maritime Engineering (code: MAC) and Joint Transimex Saigon (code: TMS) has soared in recent days.
Hai An Port – a lucrative investment
Hai An Port is considered a good fundamental businesses . Established since 2009 , specializes in providing services related to seaports and inland freight services including operation of seaports and maritime transport services , the company recorded a sales growth of about 20 % / year . Particularly in 2014, the company's net sales reached 430.7 billion – an increase of 92.6 % compared with 2013. Profit after tax increased by 37.2 % to 113.2 billion . Thus, the rate reached 26.3 % profit margin .
Output of goods through the port of Hai An ongoing growth from 2012 to the present, in which , with strategic focus on developing inland transport services , production of domestic unloading 38 091 TEU has skyrocketed since 2012 over 62 309 TEU in the first 9 months of 2014. The company also paid dividends at a high rate . In 2012, the dividend rate is 18 % , in 2013 was 25% and the expected rate for 2014 was 30 % . Compared with the trading company terminal operator in the port area as Hai Phong Hai Phong , Doan Xa port , port Transvina , Greenport harbor , Dinh Vu port , Newport … the port of Hai An advantageous position when located at Cam river downstream , the water line further ( – 8.7 m ) , wide road to the port should be able to pick up the advantages of large vessels up to 20,000 DWT .
However, because only one port of Hai An jetty should have difficulty in organizing the ship operators have the same schedule as well as in attracting the ship into port. Since 2012 , the company has plans to invest in expanding the port ( phase II ), including the construction of a jetty but due to the planned city of Hai Phong , the project is on hold, pending reviews Its authorities . Besides, with the Ministry of Transport adjustment detailed planning Lach Huyen port area into an international gateway ports in Hai Phong ( scheduled for completion in 2016 and has the capacity to receive large container ships up to 8000 TEU ) , Customs An port and other ports in Hai Phong will bear enormous competitive pressure in the international port services .
Hold large ownership rate for HAH , stock prices MHC , TMS and MAC have skyrocketed Currently , MHC and TMS is the largest shareholder of HAH with ownership ratio 27.93 % respectively and 24.38 % . Owning a smaller proportion Supply Corporation and marine engineering services ( code : MAC ) with 6.3% .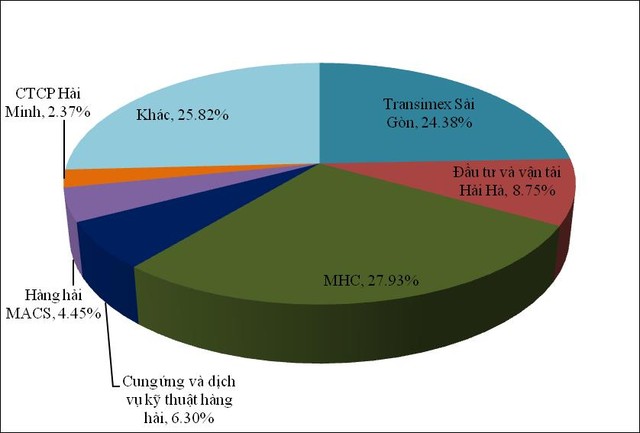 With this ownership rate, while HAH listed with a starting price of VND40,000 / share, the value of investments in MHC HAH will amount to 259 billion (book value was 128.6 billion), of TMS is 226.2 billion (book value 71.25 billion) and the MAC is 58.5 billion (book value is 16.4 billion). Profit from HAH has contributed significantly to the final outcome of these business enterprises. From 12/02 to 02/03 days, the share price has continued to increase MHC from 12,000 VND to 15,000 VND, equivalent to an increase of 25%, shares rose from 12,100 MAC dong to 14,600 dong equivalent to a growth of 20.7% TMS also increased from 48,000 VND to 56,000 VND, equivalent to an increase of 16.7%. In particular, despite the general market correction in 28/02 and 02/03 days, stocks have hit the ceiling MHC 2 consecutive sessions. Comparing the difference between market value and book value of investments in enterprises HAH also find attractive enough, and it might be motivated to make up for stock appreciation MHC, MAC and TMS.
However, this difference is recognized only to the profits of the major shareholders to sell HAH now done, and if not, the stock price is higher than the book value HAH only help these businesses recorded increased the value of long-term investments and increase property values. Apart from the listed motivations of the port of Hai An, maybe every enterprise will have its own story. For example, the MHC has advocated raising 270 billion from the issuance to existing shareholders, strategic shareholders and officers and employees for the purpose of professional financial investment, bought large percentage holding to test control. However, what a lot of investors are waiting for now is whether the stocks mentioned above have all been motivated and profit-taking on the day the transaction official HAH? MHC: Expected to mobilize 270 billion by issuing shares.